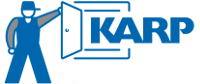 Karp roof hatches provide secure access  for your roofing needs.  Karp has improved and re-engineered their roof hatch which is offered in stock sizes as well as custom sized roof hatches.  Roof hatches are available in  aluminum model KRHA and galvanize steel model KRHG and are finished with EPA approved electrostatic paint.

Bilco roof hatches give safe and easy access to roof areas equipped with an interior ladder, ship stair or service stair.  Bilco also has a wide variety of special sizes, and they can also manufacture custom sizes to accommodate your commercial or residential needs.  This  material can also provide an accessible way to remove or install large pieces of equipment from a building or structure.  All Bilco  products feature engineered lift & assistance for easy to use one hand operation.

Babcock-Davis roof hatches present safe and convenient access to commercial building roof areas using interior ladders or stairs. Babcock-Davis provides powder coat finish for ultimate corrosion resistance and long lasting exterior durability,. Babcock-Davis' builds their roof hatches around your specific needs and meets building codes requirements

Milcor brings over 105 years of experience in the manufacturing of a broad range of products including roof hatches.  Milcor roof hatches are available in single- and double-leaf configurations.  Hatches can also be fabricated in special sizes, shapes, or other modifications to meet special needs. Hatches are available in several materials, including galvanized steel, aluminum, or stainless steel. Galvanized Steel is finished with a White Powder Coat or a Cool Eco White water-based paint.